Why Madison Approach Staffing?
Since 1988, Madison Approach Staffing Inc. has been a regional resource to businesses, not-for-profits and government agencies, to find the people they need to successfully run and grow their organizations. We have developed a depth and breadth of experience, resources and knowledge that enables us to serve a wide range of industries and place a spectrum of candidates.
We believe that people are more than cogs in a wheel; they spin the wheels of innovation. That is why we spend the time getting to know both our clients and our candidates. We believe that a truly good placement is more than matching bullet points on a job description, it is matching people who will work well together.
What's more, we have been here, through economic ups and downs, and have garnered both the community resources and reputation to assist both our clients and our candidates through good times and bad. We view every company we serve and every job we fill as a greater service to our larger community to which we contribute. As such, we demonstrate our commitment through our volunteer efforts, board activity and contributions. We help to build communities one job at a time.
What is your process? What can I expect?
We are in the people business, and as such, we want to get to know you. No, really, we do. We actually WANT to find out all the quirks and foibles and wonderful things that make your organization uniquely YOU. We love phone calls and face to face meetings and super long emails; it's our thing.
The Initial Needs Assessment
When you first initiate contact with us either through our "Request an Employee" form, a phone call (914) 428-4800 or email , a Staffing Coordinator will begin with an Initial Needs Assessment. During the Initial Needs Assessment, our objective is to find out the essentials about your company, its culture, your immediate needs and long-term goals.
During the Initial Needs Assessment we will schedule a time convenient for you for a site visit to meet you and other appropriate stakeholders associated with the job opening so we can learn from them their expectations and needs as well.
The Comprehensive Needs Assessment
During the site visit, your Staffing Coordinator will perform a Comprehensive Needs Assessment with you and the other associated stakeholders in your organization. We will talk with you to discover your specific goals, job criteria and any challenges related to the open position, and we will observe the environment and unique company culture of your organization.
During the site visit we will discuss the various 360 Approach hiring solutions available and which would work best for your current situation. At the conclusion of the visit we will provide you with an action plan outlining the solution you have selected and the steps we will follow accordingly.
How do you find, identify and select talent?
Our best source for great talent is referrals from successful candidates and satisfied clients. With thirty years in business and over 3500 successful placements we receive a lot of them because people know and trust us.
To supplement our candidate pipeline we also participate in job fairs, have a robust social recruiting campaign, we actively network in regional affiliations, and we have our own proprietary database we have developed and access with email marketing campaigns.
Our experienced staff is dedicated to finding just the right person for your job and who can contribute on day one. That is why we have strict candidate vetting process
- Every candidate is personally interviewed by a member of our staff to ascertain their individual character, communication style, and work preferences
- Every candidate is required to provide two business references to verify their background, experience and reliability
- We use SkillCheck® to evaluate candidate's quantifiable skills such as software knowledge, accounting skills, etc.
- Enhanced assessments to evaluate candidate attitude and aptitude are also available
- At client request we can also conduct full background and chemical screening
What are your capabilities and specialties?
Established in 1988, we have developed a depth and breadth of experience, resources and knowledge that enables us to service a wide range of industries and place a spectrum of candidates.
Our clients include large hospitals and government agencies to boutique advertising agencies and local law firms. Whether you need a high-level, professional placement to take your organization to new heights or you need rapid staffing up for variable workflow, our flexible workforce solutions help to make your organization run at optimum efficiency.
Whether the job is temporary , temp-to-hire , or direct hire , from entry level to the C-Suite, we have the capacity to assist you with all your staffing needs.
Our goal is to make your organization better. Employee Training is among the best ways to increase attraction, retention and motivation of employees. That's why we developed an affordable online training solution to help fill the skills gap of prospective candidates and existing employees so you can attract, retain and upskill people who have the right attitude and aptitude for your organization.
What benefits do you offer employees and are you ACA compliant?
While a temporary employee is working on assignment, they are OUR employee on OUR payroll, so we take care of everything – all payroll deductions & contributions, disability & workers comp, vacation & holiday pay, we even offer ACA compliant health insurance.
Our job is to make YOUR job easier. We provide these benefits to employees because it alleviates an enormous administrative and financial burden on our clients, and because it helps attract and retain great talent. And, it's just the right thing to do.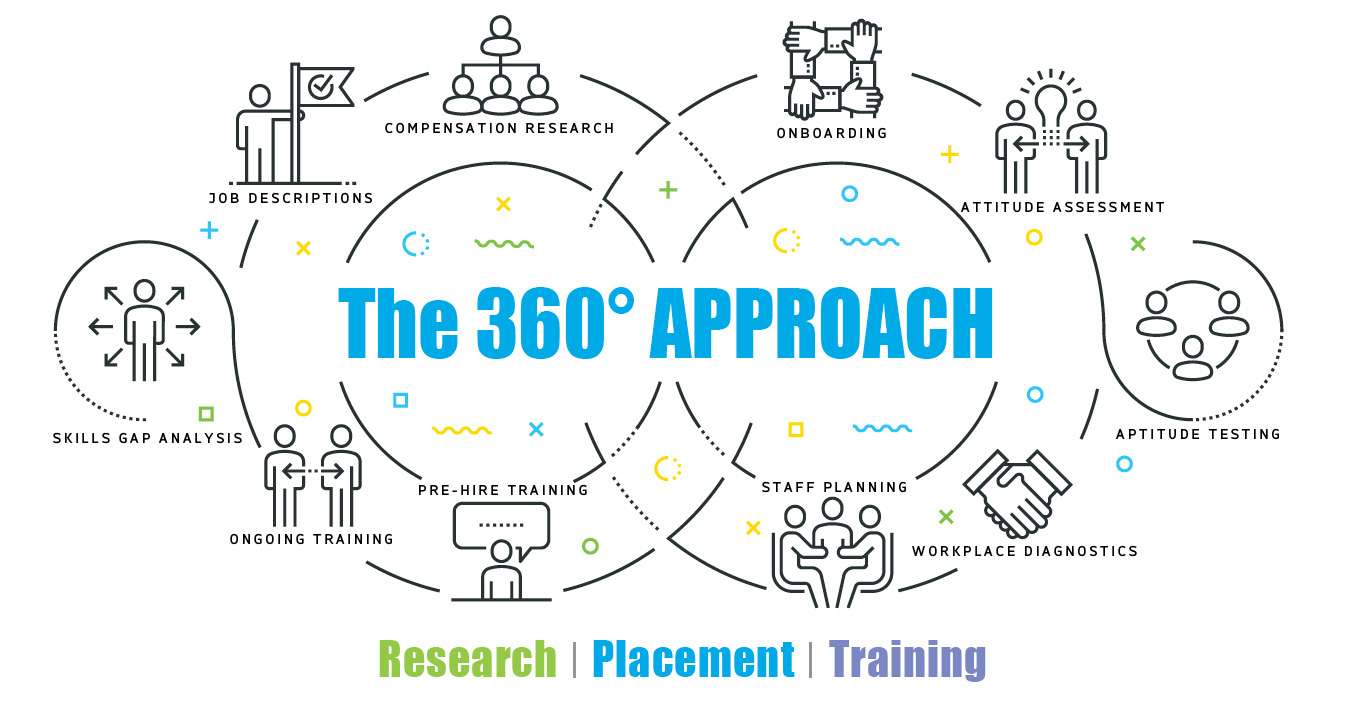 360 Approach - Our Service Packages

Direct Hire

Temp To Hire

Temp Staffing

Training

Benefits Administration