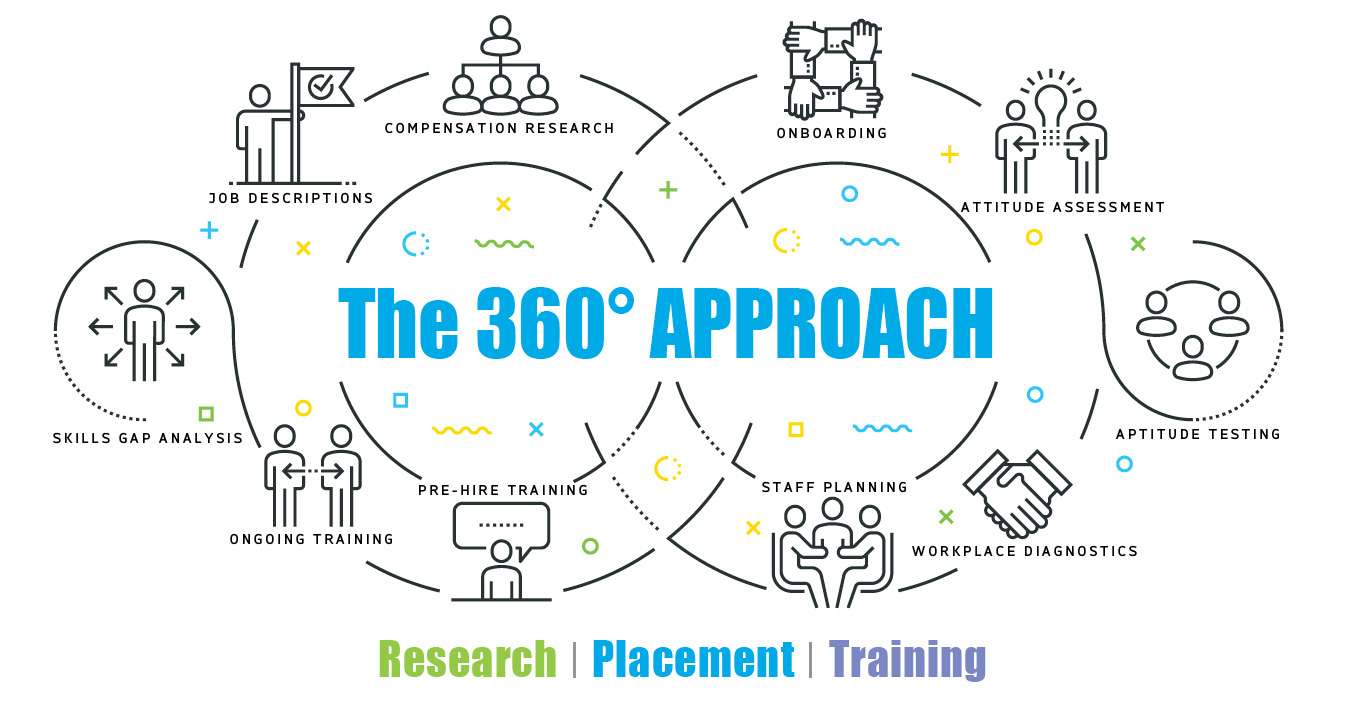 We're in business too so we get how hard it can be to find the time to work on your business rather than in it. Business owners and managers are busy focusing on doing what they do – so they don't always have time to step back from the day-to-day and evaluate their long-term workforce needs to actually grow the organization.
We do. Because that's all we do.  Every single day.
Today, human resources have become more than just finding and hiring candidates. It's about training, organizational design, crafting competitive and creative compensation packages, and planning for growth and innovation. It's also about ensuring your organization is not only attracting, but retaining top talent—because making hiring errors and replacing staff is costly and time-consuming.
Recruiting:  We focus on identifying the people our clients need now, and in the future, by building candidate pipelines and nurturing candidate relationships so our clients have the talent they need to drive innovation and growth.
Training:  Because we also know how time consuming training can be, we developed a simple on-line training platform so you can develop your people – from effective, cohesive onboarding, to detailed skills training and even comprehensive management training.
Consulting:  We have the competitive data available to help you create and evaluate your organization's compensation packages, as well as design and implement a variety of HR strategies.
Madison Approach Staffing 360° Approach supports the front- and back-end hiring and training needs of organizations of all sectors and sizes ensuring your success without the stress. We help employers meet their short-term workforce needs while planning for the future growth and training of their people—because your success is unquestionably tied to the talent and skills of the people you hire.
Review our 3 Service Packages and call to discuss what best fits your needs. Call 914-428-4800 or email info@madisonapproach.com.
Choose the 360° Approach Service Package that fits the hiring and training needs of your organization:
Candidate Recruitment & Placement (Standard Service Package)
Why try to build your own pipeline of qualified job candidates when you can use ours? Our talent database is full of referrals made by satisfied clients and previous job candidates. When adding our large recruitment advertising budget, active recruitment contacts and a database of applicants compiled since 1988 to the mix, you will have one of the area's largest selection of candidates available to you.
And it's not just about the QUANTITY of the candidates, but the QUALITY of the candidates. That's why we make it our business to identify people who have the skills and the motivation to fit all of your hiring needs.
Candidate Recruitment & Placement (Standard Package) Fee is calculated based on hourly wages or a percentage of annual salary and includes:
A) Candidate Sourcing
B) Candidate Basic Skills Assessment
C) Candidate Reference Check
D) Candidate Placement (Temp, Temp-to-Hire, Direct Hire)
Business Needs Analysis (Essential Service Package)
For the small and mid-sized company, Essential Services are provided to help employers who need assistance diagnosing, researching, and developing an organizational hiring plan. The Essential services are designed to precede our Standard Recruitment and Placement services. At the conclusion of this work, Madison Approach Staffing works with the employer to source, assess, and place candidates. The Business Needs Analysis is offered for a fee of $1,350 plus Candidate Placement Fee (calculated based on hourly wages or a percentage of annual salary).
Business Needs Analysis (Essential Package) services include:
A) Diagnosis of Workplace Needs—includes interviews with management and assessment of staff roles.
B) Cost Benefit Analysis of Current Staffing Plan
C) Develop Job Description(s)—includes up to five
D) Regional and Sector Based Salary Compensation Research
E) Define and Test Candidate Aptitude/Attitude Hiring Parameters
Workforce Performance Optimization (Enhanced Service Package)
For the small and mid-sized company, Enhanced Services are provided to help employers optimize workforce performance to build productivity, loyalty, and commitment in their most important asset – people!
These services include:
A) Incumbent Worker Assessments and Training to determine the skill set of existing employees and train those lacking critical skills needed in the organization's current business environment
B) Candidate Skills Gap Analysis to identify the important skills needed by an employer's workforce
C) Candidate Pre-Hire and On-the-Job Training to train candidates lacking specific skills either before hire or during employment
D) Candidate Onboarding to ensure successful acclimation of new hires into the employer's workflow, mission, and culture
The fee for these highly-customized set of assessment and training services are tailored to the needs of each employer and include online training platform and/or live training. For more information on our training packages click here >