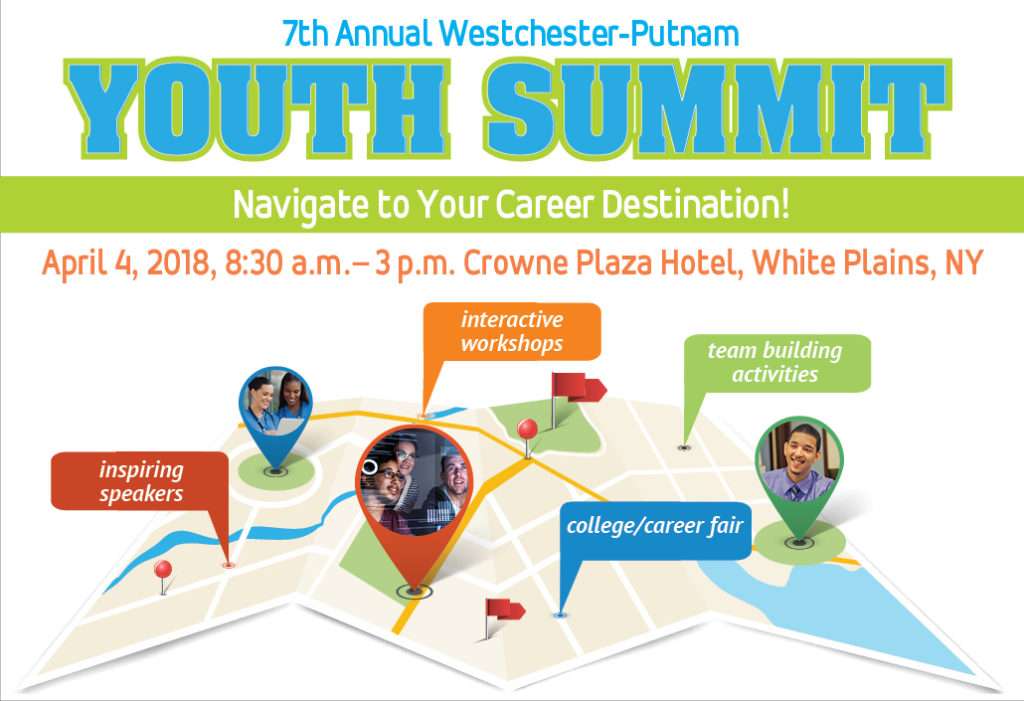 Allison Madison joined more than 300 students and business leaders as a volunteer mentor at the 2018 Westchester-Putnam Youth Summit on April 4, which took place at the Crowne Plaza Hotel in White Plains.
The Youth Summit is a free event, coordinated  by The Business Council of Westchester, Westchester-Putnam Workforce Development Board and Westchester County Government for young adults between the ages of 16-24. This year's theme was "Navigate to Your Career Destination." County Executive George Latimer welcomed students, along with BCW President and CEO Marsha Gordon.
Through a robust and interactive agenda, the goal is to provide young adults with applicable knowledge that will help them to discover their strengths and connect to information about a variety of career paths.
The day was filled with team activities run by volunteer mentors, workshops, motivational speakers, and an active College & Career/Job Fair. Workshops include topic such as goal setting, interviewing skills, soft skills, building a successful network, the college process and leadership.
Allison Madison, who has volunteered as a mentor for all 7 years of the events existence explained that the Summit could best be summarized by a young man at her activity table. He commented, "I thought it was just going to be another job fair—I didn't realize it was going to be all this, (as he gestured with his hand outstretched to the room filled with young people and business leaders). You all spent all this on us? Wow, this is something special, I learned a lot."
"The Summit is more than just a Job Fair, its more than just a Career Day, this day, for many, is the first time they stepped out of their worlds and discovered a new one filled with people who cared about who they are and where they are going," added Allison.
Through short "Career Commercial Breaks," attendees gained insight into careers in aviation from Millie H. Becker, Founder of Skyqueen Enterprises, and entrepreneurship from Donvil Collins, President/CEO of VeeKast. Business leaders from a variety of industry backgrounds volunteered as business mentors, workshop facilitators and career fair exhibitors.
The event's keynote speaker was Carl Michel, best-selling author of "365 Hip-Hop: Daily Motivational Quotes," mentor, philanthropist, and executive producer of The Youth Empowerment Show. He effectively uses his life's experiences and positive aspects of music to impact the lives of young adults all across the globe.
Event Emcee Lucinda Cross, known as the Chief Activator, is THE VOICE of this generation and is also the CEO of Activate Worldwide.
The event closed with the Inaugural Youth Summit Youth Advisory Council sharing encouraging words with their peers on how to use all they have learned within the day to take the next step and bring their purpose, passion, skills and brand to the next level.
The Youth Summit is also part of the Westchester Private Sector Summer Jobs program that connects young people with Westchester County businesses. The event was led by Ebony White, the BCW's Workforce Development Coordinator. For information about the Summer Jobs Program or hiring local youths for the summer, call Ebony White at 914-948-2110.
Sponsors included Berkeley College, KeyBank, Cross County Shopping Center, WestCOP & VeeKast.