Employee Training – A MUST for Every Organization
In today's world, training is vital. Whether focused on skills development; ensuring workplace principles, fairness, and security; OR legal compliance, training is no longer an option, it's a necessity.
In addition to creating a positive workplace culture where people enjoy working, training is central to increasing productivity and profits, retaining employees, ensuring a fair and harassment-free work environment, and guaranteeing legal compliance. Madison Approach Staffing provides live group and online training platforms to help employers meet the need for training new and existing employees in every area of their business—Workplace Environment and Skill Development. View our sample course catalog >
Our training service is provided in two ways:
As a stand alone online subscription service for your existing employees; and/or
An integrated part of your recruiting and onboarding process providing a means to:
– upskill great candidates that demonstrate potential
– build a uniform onboarding process
– increase company loyalty
All users have access to an array of relevant training modules in areas such as human resources, workplace safety, managing conflict, customer service, and many others.
Types of Training Available:
New York State Sexual Harassment Training
A critical area of focus for New York State employers is the state's new anti-sexual harassment requirements, which came into effect on October 9, 2018. The new requirements mandate that employers enact both a written policy and annual "interactive" training for all employees. We are ready to help you comply.
Madison Approach Staffing can assist in drafting or reviewing your sexual harassment policies and providing training to your organization's employees. Our training is provided as:
On-site, live group training; and/or
Access to our online training platform
Our online NYS Sexual Harassment Training is comprehensive, time-efficient, and cost effective, helping employers comply with the law without compromising productivity. Employers have two options:
1) Schedule employees to take online training in one sitting with a total training time of 2 hours;
OR
2) Schedule employees to complete as few as one online lesson per day—providing the least interruption of work schedules
(each module ranges from 4–10 minutes).*
Click for online curriculum. See chart below for pricing.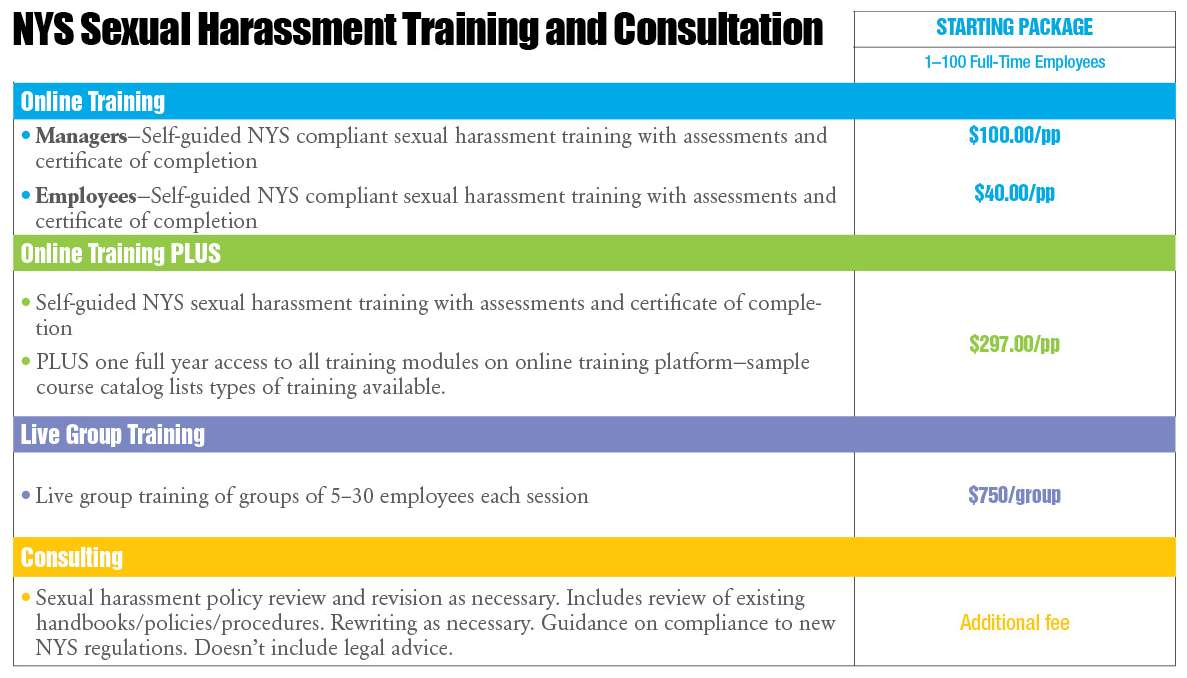 Written Policy Requirements: Employers must implement a written anti-sexual harassment policy that should include the following information:
A statement explaining that the employer strictly prohibits sexual harassment;
Specific examples of conduct that constitute sexual harassment, including examples of "quid pro quo" sexual harassment;
Information regarding the statutory provisions that prohibit sexual harassment, including information regarding federal and New York statutes, as well as city law for New York City employers;
An internal complaint policies and procedures that provides how an employee can report incidents of sexual harassment and the creation of a standard complaint form;
Information regarding an employees' rights of redress if they are the victim of sexual harassment;
Identification of all available judicial and administrative forums for an employer to file a sexual harassment complaint, including the Equal Employment Opportunity Commission ("EEOC"), the New York State Division of Human Rights ("DHR"), and in New York City, the New York City Commission on Human Rights ("CHR");
A statement that an employer cannot retaliate against an employee for reporting sexual harassment or assisting in an investigation;
Employers should also require their employees to sign an acknowledgment form that they have received and reviewed the policy, and these forms should be placed in the employee's personnel file.
Training Requirements:
In addition to written policy requirements, the law requires that beginning on October 9, 2019, employers must provide annual "interactive" training regarding sexual harassment. Employers must finish their first annual training no later than October, 2019 for current employees. Thereafter, employers must provide training to new hires within 30 calendar days or their start date. The content of the training will mainly follow the topics that employers must put in their policies under the new legislation. The New York Department of Labor and the DHR have released a model training module, and an employer must meet or exceed the training standards in that model. While there is no record-keeping requirement under this law, we recommend employers have all employees sign written acknowledgments and attendance forms.
Workplace Environment Training
Developing and maintaining an appropriate and professional workplace environment is not only recommended, it is now a requirement for all employers. Employees have the right to expect to work in an atmosphere free of discrimination and harassment where only their work determines compensation and mobility AND, it is the law! The cost of losing valuable employees, defending workplace lawsuits, loss of productivity from toxic situations, and negative public image can be immense, thus making an investment in workplace environment training essential for every organization
Training is the proactive solution to making sure all employees are aware of acceptable workplace behaviors. Our training is provided as:
On-site, live group training; and/or
Access to our online training platform that allows employers to purchase an annual subscription to an array of relevant training modules in areas such as human resources, workplace safety, managing conflict, customer service, and many others.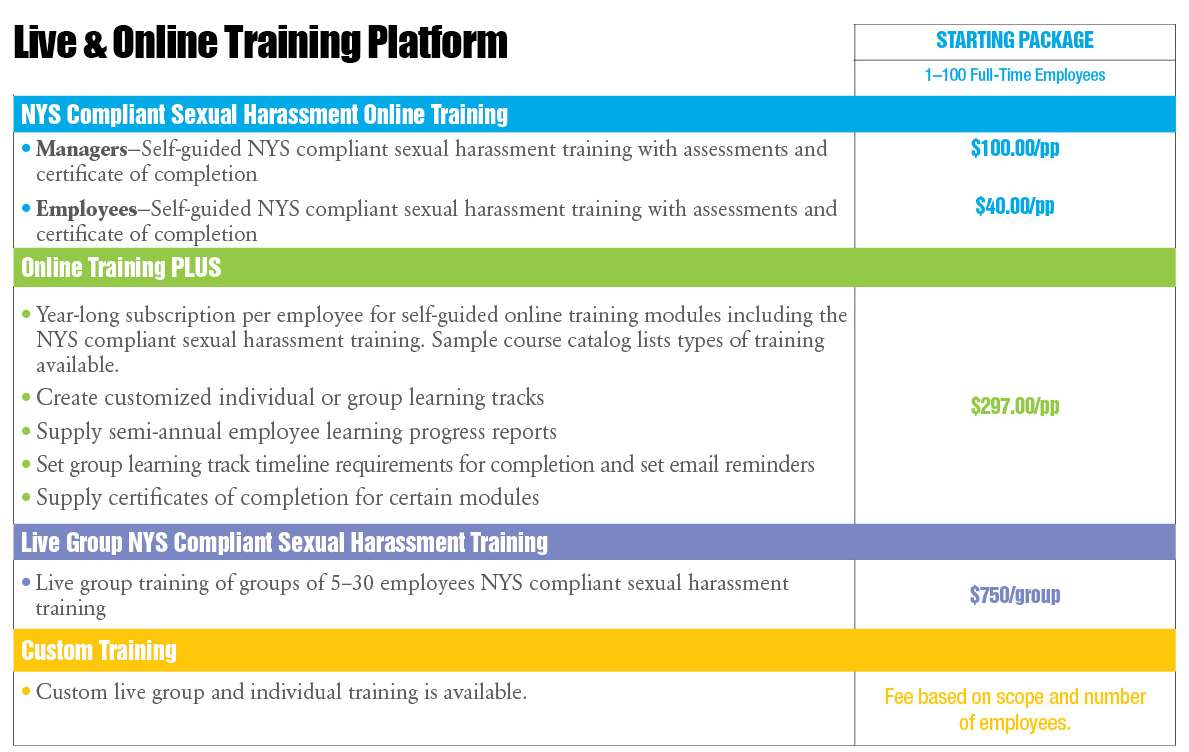 It's easy to get started. Our training platform enables employers to purchase an annual subscription to an array of relevant online training modules in areas such as ethics in the workplace, office etiquette, confronting workplace conflict, and more. View our sample course catalog >
Skills Development Training
Madison Approach Staffing offers an online training platform to provide a low-cost solution for Skills Development Training for new and existing employees. Ongoing skills training is critical for employers who place a priority on developing and supporting the potential of their employees.
Training is proven to:
increase job satisfaction and morale;
improve employee motivation and loyalty, thereby reducing turnover;
up-skill current employees who are a culture fit;
increase efficiency and productivity, which improves profitability; and
further technological advances and innovation.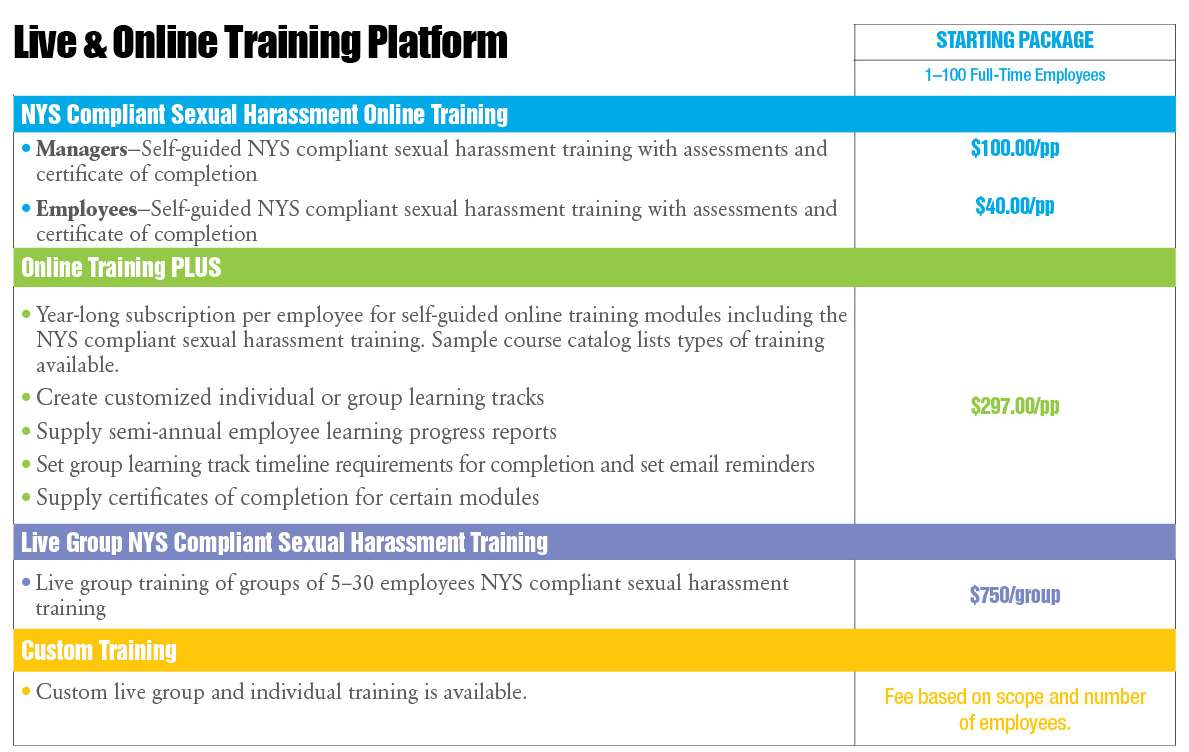 It's easy to get started. Our training platform enables employers to purchase an annual subscription to an array of relevant online training modules in areas such as customer service, finance & accounting, marketing, sales, business skills, and many others. View our sample course catalog >
On-the-Job Training Reimbursements
The Skills Gap is real, and we are all experiencing it to one degree or another. The question is, how is your organization going to manage it?
According to a recent CareerBuilder survey, 58% of HR Managers are hiring people without industry experience and training them on the job. Yes, you'd face upfront costs in setting up an OJT program for new hires. But, that same survey also showed that 92% of employees are actually more loyal when an employer invests in their training. So, given that it costs eight times less to retain someone than to hire someone new, it may certainly be worth the investment.
Madison Approach Staffing, in partnership with and grant funding from the Westchester-Putnam Workforce Development Board, developed its wage subsidy incentive program for clients willing to provide On-the-Job Training (OJT) to qualified candidates.
Through our OJT wage subsidy, if you are willing to provide a qualified candidate* On-the-Job Training and teach them the skills they need to be successful, that employees' wages will be subsidized up to 50% for up to 6 months through the OJT grant.
In this way, we are helping alleviate the up-front cost burden associated with On-the-Job Training while also incentivizing businesses to invest in Human Potential.
Allow us to source qualified candidates, people that have the interest in the job and enthusiasm to learn, for you to train. During the training period the employee remains on our payroll. In that way, you are not responsible for any of the administrative aspects of running the OJT program, nor do you have to wait for the wage subsidy from the Workforce Development Board to slow down your cash flow. You are only responsible for the day-to-day training and supervision, and the regular cost of our services less 50% of wage expenses. At the end of the training period, assuming the employee has met your expectations and has learned the necessary skills, you then hire them onto your company payroll.
*To qualify for OJT subsidy, candidates must be unemployed or under-employed.