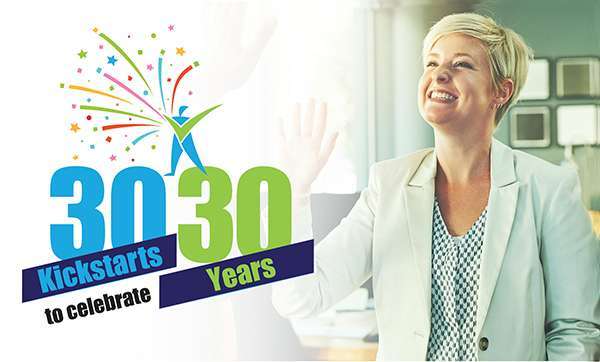 We turned 30 in 2018 and we still remember what it's like starting out. It takes hard work, a little luck, and some help along the way. So to celebrate we recommit to our mission to serve and build our community, one job at a time. We will help 30 people kickstart their career in a variety of ways—skills upgrade, resume consultation, transportation assistance, work/life balance, tools for work, and even professional makeovers —anything that will 'kickstart' a person's career by helping them overcome the obstacles that prevent them from reaching their potential. The 30 lucky winners will get personalized help to launch them on a path to success.
Free Program Open to Individuals of Any Age Looking to Overcome a Barrier to Selecting or Changing Careers; Application Start March 1st
Madison Approach Staffing Inc. is paying it forward and will celebrate 30 years of helping to build Westchester County one job at a time, by providing 30 people the tools they need to overcome a barrier, select a career or change a career. The "30 Kickstarts" campaign launched March 1st and encourages people to apply for free professional assistance that can include things like a skills upgrade, resume consultation, transportation assistance, work/life balance, and even professional makeovers —anything that will 'kickstart' a person's career by helping them maximize their human potential.
Prospective applicants – from recent college graduates eager to land their first job – to homemakers planning a return to the workforce, and anyone in between – can fill out the application online beginning March 1, with the process concluding on May 1 (www.madisonapproach.com/30-kickstarts). Applications will be reviewed by a panel and winners will be announced on June 1, with a congratulatory kick-off breakfast set for June 15. Further, each winner will be highlighted on the Madison Approach Staffing website and in social posts that reflect their respective personality, skills, and strengths. The "30 Kickstarts" winners may also receive individualized training depending upon the job he or she seeks and his or her strengths and/or areas of improvement needed.
"Our business was founded in 1988 and after three decades, I still remember what it was like for my Mom returning to the workforce and trying to make a change," said Allison Madison, President of Madison Approach Staffing. "We understand how daunting it can be for a young person to determine their career path and doing so with full confidence. It's the same feeling for anyone returning to the workforce after time away," she added.
"Madison Approach Staffing knows what skills employers are looking for, and we look forward to helping individuals overcome a barrier, improve a skill, or gain a new one, in order to take that next step forward," Madison continued. "Ultimately it's someone's self-confidence that can make the difference in why one person is selected for a job over another. Our goal is to help 30 deserving people increase their confidence and add to their strength as a candidate. We look forward to receiving the applications and reading how we can help people and selecting 30 deserving individuals get started on their next 30 years."
Additionally the company will be working with business partners throughout the campaign as panelists to screen applicants and to identify appropriate job opportunities which will increase visibility for employers as well.
To date our partners include Denise D'Agostino of Possibilities Plus, Andi Gray of Strategy Leaders, Wiley Harrison of BYB, and Bud Hammer of Atlantic Westchester. Lisa Stamatelos of KVL Audio Visual Services will be one of our application panelists.
For details about the "30 Kickstarts" opportunity and the application process, visit www.madisonapproach.com/30-kickstarts.